We understand that you have a choice of orthodontics in the Presque Isle area, and we appreciate your consideration. At Blackstone Orthodontics, we can assure you that you'll feel confident in our ability to meet all of your expectations. We work closely with each patient in coordinating treatment plans that are specific to your individual needs and goals.
Dr. Greg
With his ready laugh, friendly demeanor and love of people, Dr. Greg shows his enthusiasm for his profession. He enjoys the beautiful smiles that can be created through orthodontics.
He is known for his dedication and accessibility both during and after office hours. The contagious love of his profession has been passed down from his father.
Dr. Greg, a native of Presque Isle, graduated from Ohio State University School of Dentistry in 1983 with a doctorate of dental surgery. He was elected to Omicron Kappa Upsilon Honorary Dental Society while attending. He entered a one year General Practice Residency at Hartford Hospital in Connecticut after dental school. Upon finishing the residency, he went on to complete a two year post-doctoral residency in orthodontics at Tufts University of Dental Medicine. After graduation, he returned to Presque Isle and became a partner with his father in his orthodontic practice in July of 1986. Dr. Greg's father retired in 1997.
---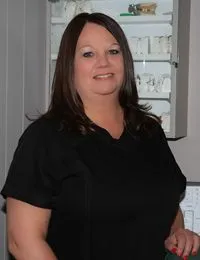 Crystal Cummings- Treatment Coordinator
Crystal has been with our practice for just over 2 ½ years and is already a vital part to our Blackstone Orthodontics Team! Crystal loves hunting, fishing, basketball and being at their family camp on Nickerson Lake. She is married to her husband Terry and together they have 2 sons, three foster children, five grandchildren and a new daughter- in- law. Crystal is a 2012 graduate from UMPI with a degree in Social Work and a Certified Dental Radiographer with the Maine Board of Dental Examiners.
---
Mary Lee Keep- Part-Time Treatment Coordinator (Retired)
Mary Lee worked for Dr. Blackstone for 32 years and retired in 2015. She loves building relationships with the parents and patients. She stays connected with the practice by filling in on a part-time basis as needed and is much appreciated by the whole Team! Mary Lee is very active with her church and loves to spend time with her family and friends. She is an avid gardener and loves to read..
---
Shelly Condon- Receptionist/Insurance
Shelly has been managing the front desk for Dr. Greg since 2008. Her sweet demeanor, quick wit and ready smile are important job requirements. In addition to assisting and scheduling patients, Shelly has many other duties that include insurance claim processing. Shelly and her husband have 2 daughters that are adopted from Haiti. She loves reading and camping. Shelly is an active member of her church.
---
Joan Dyer- Orthodontic Assistant
Joan has been working for Dr. Greg for over 30 years. She is a Certified Dental Radiographer with the Maine Board of Dental Examiners, and is also a Certified Dental Assistant with the Dental Assisting National Board. She enjoys helping children and adults achieve their beautiful smiles. She enjoys reading, camping and fishing with her husband. She especially enjoys time with her family and her 7 grandchildren.
---
Susan Saunders- Orthodontic Assistant
Susan has been assisting Dr. Greg with patients since 1991. She obtained her certification for orthodontics in 1992 along with her radiology license. She enjoys the interaction with patients and following their progress during treatment. She loves four wheeling, canoeing and campfires.
---
Danny Dyer- Lab Technician
Danny has been our lab tech for 26+ years and make all the orthodontic appliances for our office. He has completed courses in Splint Fabrication on a Sam Articulator, Fixed Expansion and Biostar workshop. He enjoys hunting and fishing with his wife, and going to camp with his kids and grandkids. Danny is also a talented taxidermist and created the beautiful display for our office that the kids enjoy.